In 2004, AC Saltlander green wheatgrass was developed by Dr. H. Steppuhn at the Semiarid Prairie Agricultural Research Centre (SPARC) in Swift Current, Saskatchewan, Canada and was commercially released to Miller Seeds. AC Saltlander is palatable and a nutritious forage with exceptional salinity tolerance for pasture hay. With as much as 20% of cropland affected by some degree of salinity and about 4 million acres of moderate to severely saline soils in Western Canada, Miller Seeds is very excited about the potential that the AC Saltlander Green Wheatgrass has in turning those acres back into productivity.
WEED BANK
Weed Bank management is critical: avoid seeding where large surface concentration of viable weed seeds exist especially Foxtail Barley.


CRUSTING
Soil with high sodium content is very prone to crusting in hot weather. Avoid summer seeding. Early spring seeding prior to mid June, in water logged soils. Dormant fall seeding would be useful also. (October)


DEPTH
Seed depth should be at ¾ of an inch. ½ inch is not enough and 1 inch is too much. Adjust the depth slightly deeper for sandy soils and a bit less for fine textured soils prone to crusting.


FURROWS
Furrows should have shallow slopes to avoid slumping in times of heavy rainfall. The flatter it is, the better it is.


WEED CONTROL
Once 2 or 3 leaf stage is reached, apply the same broadleaf chemicals as for Wheat. For the control of Wild Oats - Achieve is good, Horizon is fatal.


COMPANION CROP
To prevent wind and water erosion, add 5 to 8 lbs/acre of a cereal to the seed mixture.


FOXTAIL BARLEY PROJECT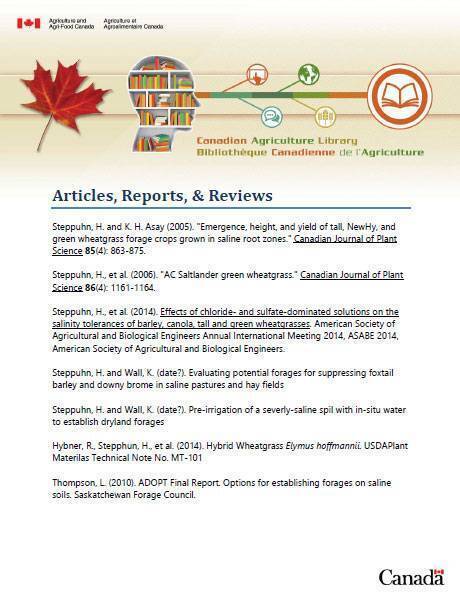 Results are in! See below...
Dr. Harold Steppuhn, Semiarid Prairie Agricultural Research Center, Agriculture and Agri-Food Canada, Swift Current, SK along with theses organizations and names of partners:
Alberta Beef Producers
Ducks Unlimited
Alberta Dryland Salinity Control Association
Proven Seeds
Wheatland Conservation Area
Ag Service Board, County of Warner
Saskatchewan Forage Seed Development Commission
Chinook Applied Research Association
Miller Seeds
In joint these organizations have contributed funding for this project: Developing biological strategies to control foxtail barley in saline hayfields. SPARC-Agric. & Agri-Food Canada will be doing the work. Summary: (written by Dr. Harold Steppuhn)
Agricultural producers across Canada consider foxtail barley (Hordeum jubatum) as a major weed detrimental to both field crop and livestock production. The plant invades disturbed pastures and cultivated land alike. It has proven very difficult to control, especially in hayfields containing saline soils. Foxtail barley, a perennial, typically produces copious quantities of wind-borne seed which penetrate, lodge, and infect the tender nose and mouth parts of cattle, sheep and horses. Infected livestock eat less and gain less weight.
The current chemical control includes heavy pre-emergence applications and yearly in-crop doses, which require conditions, which occur only briefly in the fall. AAFC scientists released 'AC Saltlander' green wheatgrass (Elymus hoffmannii). Plants of this palatable forage reproduce by seed and rhizome, and feature salinity tolerance equal to that of tall wheatgrass (Thinopyrom ponticum). Based on a non-replicated field trial in severely saline soils, green wheatgrass seems to be able to gradually suppress foxtail barley and other weeds as it established. This offers potential for a low-cost, biological remedy to control and perhaps eliminate this persistent weed in saline hayfields. Such control also reduces the availability of wind-borne seed by which this weed invades pastures, roadsides, freshly restored waterfowl nesting sites hayfields and directly-seeded grain fields, where its control is also difficult and costly.
Saltlander and other candidate forages will be grown in foxtail-barley infested sites and compare for their effectiveness in suppressing populations of the weed in saline hayfields. A minimum of two filed sites (one in Alberta and one in Saskatchewan) will be studied. Additional sites will depend on the total available funding in the project. Test blocks, established at each site, will be seeded to five or more candidate suppressor and salt-blend forages, and evaluated with respect to salinity. Plant emergence, population, relative growth, and seed production of foxtail barley with and without suppressor forage, measured during three growing seasons, will provide the data to evaluate each of the weed control strategies.
Information specific to foxtail-barley and selected candidate suppressor forages will also be obtained from salinity tolerance tests and related greenhouse investigations in Canada's Salinity Tolerance Testing Lab (wintertime, at Swift Current). Effective control strategies for foxtail barley will be devised based on the project's findings.
Results are in!
>
CLICK TO VIEW A PDF OF THE FOXTAIL BARLEY RESULTS
AC SALTLANDER, GREEN WHEATGRASS INFORMATION:
AC SALTLANDER
demonstrates exceptional salinity tolerance, better than intermediate, matches' tall wheatgrass and exceeds Newhy RS Wheatgrass. Its extensive root system allows it to be useful in dewatering saline seep discharge areas.
AC SALTLANDER
is the only Canadian cultivar of green wheatgrass and was mass selected in Canada for overall salinity tolerance, winter hardiness, and desirable plant form.
AC SALTLANDER
is a long lived perennial grass that is adapted to semiarid rangeland.
AC SALTLANDER
likes to receive 13" of precipitation annually. It has similar drought tolerance as intermediate wheatgrass.
AC SALTLANDER
has increased grazing tolerance and persistency on range sites and in pasture.
If properly managed it produces comparable quality yield of forage as brome and orchard grass in non-saline conditions.
AC SALTLANDER
is palatable; it has a low growth point which allows for flexible grazing and hay management.
AC SALTLANDER
resists moderate grazing pressure after establishment and recovers rapidly after grazing of defoliation.
AC SALTLANDER
produces aggressively spreading rhizomes which allow the stand to fill it self in. Under favorable conditions AC SALTLANDER can displace foxtail barley from the field.
AC SALTLANDER
is a cool season grass; its leaves remain greener and more succulent during the late summer, unlike other wheat grasses.
Excellent stands have been obtained on dry land range sites when seed is planted late enough in the fall to ensure it does not germinate until the spring. (Especially in saline sites). But spring seeding allows for more opportunity to eliminate competing weeks and is the recommended method.
Recommended seeding rates are 5-10 lbs per acre
Seedlings are vigorous and establish themselves rapidly under relatively harsh conditions.
It is important to prepare a firm seed bed. Seeds must be planted deep enough to ensure adequate moisture, but never planted deeper than 3/4". Seedling at excessive depths will almost always result in partial to complete stand failure.
Minimal fertilizer should be applied during early seedling development. From 40 to 60 lbs. per acre of available nitrogen is recommended on mature plantings during the fall when tillers are developing or in the early spring.
AC SALTLANDER
is thought to be a natural hybrid between one or more blue bunch wheat grasses and quack grass.
AC SALTLANDER
is morphologically distinct, but, its seed is similar in appearance to the quack grass parent.
Video credit to Agriculture and Agri-Food Canada
Fall grazing AC Saltlander regrowth November 2020.
Fall grazing AC Saltlander regrowth November 2020.